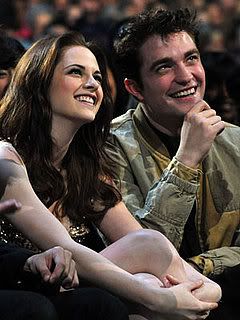 Celebs
Robert Pattinson will attend the 2011 Oscar awards without girlfriend Kristen Stewart. Rumors earlier this week claimed Rob and Kristen were set to hit Hollywood's biggest bash together. However, new reports state that Stewart's work schedule is too hectic, and she can not make an appearance.
Does this leave Robert Pattinson to walk the red carpet alone? Maybe not. The buzz is that Rob and his Water For Elephants co-star, Reese Witherspoon, will hit the Oscar Awards together.
It seems that Pattinson and Witherspoon are slated to present one of the coveted awards together, in a tactic to further promote their upcoming film. While it will be great to see Rob and Reese on stage together, no doubt looking amazing, fans will wish it was Kristen at Robert's side.
"Twilight" fans can only hope that one day Robert Pattinson and Kristen Stewart will attend a major Hollywood event together. It seems that this hot young couple are always so busy trying to hide their relationship. Hopefully, one day they actually have time to enjoy it.