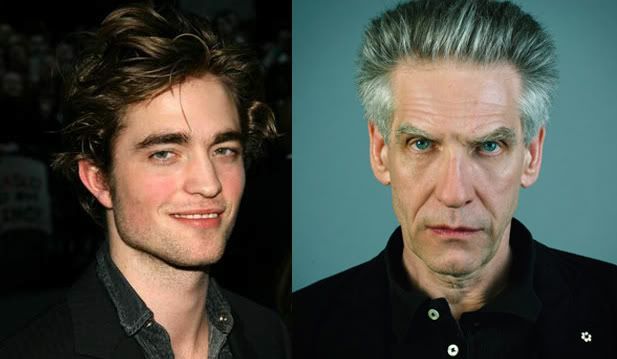 Indiemoviesonline
Yesterday saw publication of the first section of our preview of Cosmopolis, a soon-to-shoot production that will find revered horror director David Cronenberg barking instructions at the face which shifted a trillion pieces of Twilight merchandise, Robert Pattinson. Today's part two focuses on the content of Don DeLillo's source novel, as we speculate on some of the acts R-Patz will be called upon to perform.
A bother it may be, but it would be beneficial for all concerned if you check out part one of our Cosmopolis preview ahead of proceeding any further with this concluding segment. Go on, we'll wait right here for you. Promise.
Done? Super. So now you're all to speed as to who isn't doing the movie (Colin Farrell, Marion Cotillard, Keira Knightley), as well as who is (Robert Pattinson, Paul Giamatti, director David Cronenberg). Which means we can now delve into people, places and events of Don DeLillo's Cosmopolis, the 2003 novel upon which the new movie is based.
People including billionaire Eric Packer and his secret nemesis Benno Levin (the respective roles Pattinson and Giamatti will most likely play). Places confined – if that is quite the right word – to New York City, where the whole of the book takes place. And events including murder, infidelity, mass nudity, and a whole lot of driving around at very slow speeds (and yes, there are possible spoilers ahead).
1. Packer and pals
Set over the course of a single day in April 2000, Cosmopolis commences with Eric Packer, sleepless in the small hours of early morning, on the loose about his 48-room apartment situated at the apex of an 89-storey NYC skyscraper (cost of purchase to its owner, it is later revealed: a cool $104m).
A 28-year-old billionaire (Pattinson will turn 25 during the NYC and Toronto-based shoot), Packer seems almost as much a melding of flesh and machine as such prior Cronenberg protagonists as Max Renn from Videodrome or the boring morons from eXistenZ. Harbouring an obsession with charts, patterns and knowledge, he is every bit the tech-savvy plutocrat for the modern age, though we soon learn that he and his company, Packer Capital, are haemorrhaging money after leveraging heavily against a yen that is performing above expectations.
He exits his building, apparently simply in search of a haircut, departing in a white stretch limousine equipped with cameras, night-vision and myriad other gadgets, not to mention a troupe of bodyguards, led by 'bald, no-neck' Torval. It is in the rear of the limousine that much of the first half of the book plays out, as Packer converses with an almost picaresque procession of aides from his company – Shiner, his head of technology; 22-year-old currency analyst Michael Chin; Viji Kinski, his oblique-speaking chief of theory.
Also popping by for a visit are his chief of finance Jane Melman, who he picks during her morning jog, and Dr. Ingram, the physician that carries out Packer's daily check-up, with this involving the billionaire dropping his pants and being subjected a thorough examination of his lower extremities. Although he is alarmed when Ingram concludes he has an asymmetrical prostate, this does not stop him from simultaneously indulging in some sweaty flirting with Jane, delivering the line "I want to bottle-fuck you slowly with my sunglasses on" as he spies her thumbing her water bottle in an apparent gesture of sexual tension.
2. Meat Packer
It is made abundantly clear that Eric is a young man with prodigious drive and this extends to his sexual liaisons. He might not, at the outset of the book, being getting his end away with his wife of 22 days, Elise Schifrin, but he certainly sticks the Packer pecker in plenty of other places.
Early on, he has the car pull over next to two hairdressing emporiums, only to go in neither, instead diverting to the nearby apartment - and bed - of Didi Fancher, a 47-year-old art expert. Assuming this sequence does make it into Cronenberg's movie, what will the Twi-hards reckon to Edward performing an act described thusly by DeLillo: 'He made a fist and wedged it between her thighs, turning it slowly back and forth'?
And if that sequence has the potential to raise a few eyebrows then what about the danger-tinged sex scene between Packer and Kendra Hays, his Amazonian-dimensioned African-American bodyguard? Not only does she keep her armour on while they get busy building the beast with two backs, but she also pours vodka on his genitals, and obliges him when, post-coitus, he suggests she shoot him with her stun gun. All about as far removed from the teen angst romance of Remember Me as it is possible to conceive.
Interspersed amidst all this nookie are a series of apparently random encounters between Eric and Elise. She, heir to a Euro banking fortune ('Swiss or something') and a 'shit' poet, finally makes love to him near the end of the novel, after he has stripped off to lie with her and 299 other naked people who are all taking part in a film shoot. That shoot is taking place on a New York street, and the couple sneak off to a boarded-off section of sidewalk and finally do the deed. Score!
3. The bodies pile up
Security chief Torval proves intensely twitchy about the entire, seemingly frivolous, day out, noting early on that the New York roads are likely to be gridlocked due to a visit from the US President (a fictitious commander-in-chief named Melwood), and also that a 'credible threat' has been issued against Eric's life.
A mania does appear to be in the air on this particular April day, as it turns out, with Packer taking grim pleasure from televised reports about the brutal murders of two acquaintances - an IMF bigwig and a Russian oligarch - and both the NASDAQ building in Times Square and his own limo coming under attack from anti-globalisation protesters. He is assaulted by a protester again later, albeit in more comical manner, when he is pied by the 'Pastry Assassin', a Romanian who travels the world tossing desserts at the fabulously wealthy.
Having gleaned perverse enjoyment from the deaths of his business rivals, Packer is rendered more typically melancholy by the loss of life he encounters when his car is halted in its citywide crawl by the funeral procession for the Sufri rapper, Brutha Fez. A fan of the music star, Packer prejudicially pictures him having died in some gangland shoot-out, only to learn from Fez's manager, and his friend, Kozmo Thomas, that the clean-living rapper passed away as the result of a chronic heart defect. A tributary train of breakdancers accompany the cortège, a potentially arresting image if it features in the film.
The most electrifying act of violence is, however, committed by Packer himself, as he takes Torval's gun and uses it to shoot and kill his employee, in the most nonchalant of manners. This occurs roughly three-quarters through Cosmopolis, and is a key step in Packer's reconnection with the visceral – a reconnection which, in turn, is leading inexorably and explicitly towards his own death.
4. All Packed up
The story of Eric Packer's day is, in some ways, a form of spiritual restoration – though as the bad behaviour already described suggests, not in the glowing positive sense which that phrase is often deployed. But while we're certainly not dealing with some sanctimonious money-can't-buy-you-love sentiment here, it is true that as he loses all his vast wealth in his betting against the yen (and loses all of Elise's too, when he hacks into her accounts and pilfers her fortune), as he feels the sting of Kendra's stun gun, as he blows Torval away without mercy, he becomes more alive.
Becomes more alive just as he becomes very actually dead. Notice of that expiration is served barely a quarter of the way into the book, when the narration switches from a third-person perched on the shoulder of Packer, to the first-person of Benno Levin. Scratching out an iconoclastic existence in, as we learn, a derelict building, the first words of Benno's 'confession' are 'He is dead'. The ensuing description of a corpse with half a haircut strongly suggests that the 'he' is Packer, and that this is effectively the end of the novel transposed to somewhere near the front.
Following this and another later confessional interlude, Benno enters the narrative proper when the now-broke Packer, fresh from getting half his hair trimmed by a childhood family friend, drops his limousine off at a storage garage. For all the talk of the youthful billionaire being tracked across the city by a foe with murderous intent, Eric is ultimately pinpointed by Benno when the former happens to amble past the latter's hole of a home.
A shot is fired from the window, before Packer, packing heat of his own, enters the building and, after delivering an epic monologue, bursts into the room in which he thinks Benno is lurking. Here Benno reveals himself to be Richard Sheets, a disgruntled ex-employee of Packer Capital, seemingly with a burning grudge against the superficiality and self-satisfaction of modern capitalist society.
The final pages are taken up with this last confrontation between Eric and Benno/Richard, with the younger man displaying his new-found self-destructive urge by blowing a hole in his own hand, and his nemesis displaying surprising kindness as he tends to the wound. In the course of their conversation, Benno reveals that he too has an asymmetrical prostate and that it is entirely normal and nothing to worry about. The book concludes with Packer having a vision of himself as a corpse, tagged as identity unknown by the authorities, before he awaits the final, fatal shot from Benno.
5. Pattinson sets his sights
Whether you agree with the choice or not, the exit of Colin Farrell and the replacement casting of Robert Pattinson has put an entirely new complexion on the Cronenberg Cosmopolis.
With his critical rep having followed the example of the man himself and gone into rehab, most would have viewed Farrell as a very solid, very laudable choice for the role of Eric Packer. In contrast, no-one as yet has seen Pattinson play this kind of part, meaning that the entire production has suddenly taken on a fresh frisson of excitement (not least for all those teenage girls who know which film shoot they'll be staking out from this May).
It is easy to discern what Pattinson hopes to gain from the endeavour. Just as the day-long journey of Eric Packer can be seen as that of a God falling from the sterile sanctuary of Mount Olympus, to the dirty streets below where he is free to love and steal and kill with all the other humans, so Pattinson clearly wants to scrub himself of the stifling sheen of teen exaltation, and instead have the opportunities to make the kind of movies he wants to make.
But that is a quest with an inherent deadline. As any member of Bros will tell you, the idols of young girls are not renowned for their longevity, and the opportunities that Pattinson's ephemeral pin-up status brings him now will not necessarily be there in the not too far-flung future. He must therefore seize the day if he is to make the successful transition to adult star.
Water for Elephants appears a bridging picture in that process, a movie that won't startle his core fans but will perhaps hook in a slightly older crowd than that which flocks to the Twilight films. The collaboration with an internationally-respected director such as Cronenberg then forms another facet of that process – one that can, he will surely be hoping, bolster his credibility in the eyes of critics and those film fans who have given him such a hard time to date. Those film fans being, as we determined yesterday, precisely the kind of auteurists who bow down and worship at the knee of Cronenberg.
6. The allure of RP
So, the key question for those movie-lovers then is why one of their cine-heroes has turned to a young man they view as a big-haired mediocrity who is more use in terms of shifting gossip magazines at supermarket tills than he is at crafting a believable character. For while Packer might be youthful enough of a character to preclude the director from turning to his recent performer of choice, Viggo Mortensen, he still could in all likelihood have hooked in someone like Michael Fassbender, another of his A Dangerous Method stars, and an actor whose hiring on Cosmopolis would have triggered less online ire than Pattinson's did.
Cronenberg has historically never been adverse to a spot of casting that others might regard as a risk, an attitude evinced by the presence of porno actress Marilyn Chambers in Rabid and of Debbie Harry in Videodrome. But what does seem to have undergone amendment in recent years is his stance towards the commercial side of the film biz. Whereas the director's '90s output – Naked Lunch, M. Butterfly, Crash, eXistenZ – was almost entirely restricted to an art-house audience, the third millennium offerings of A History of Violence and Eastern Promises were both more obviously accessible to mainstream audiences and delivered decent cash hauls to boot (2002's Spider seemed more of a post-eXistenZ exercise in re-establishing quality control).
Apparently happy to berth in these waters where large numbers of people actually see his movies, Cronenberg would first appear to have bolstered the box office potential of Cosmopolis via the addition of Pattinson. For all the good notices and attention he has received over the years, there remains a question mark over the ability of Farrell to open a film, with Alexander and Miami Vice having proved a pair of expensive, highly-visible, disappointments. Indeed, there has been some suggestion that it was the Irishman's desire to prove his commercial virility which led him to pass on Cosmopolis in favour of the Total Recall remake.
However what Cronenberg does get through the casting of Pattinson – and what he wouldn't have got had Farrell not exited – is the ideal movie star embodiment of Eric Packer. Because while the Pattinson devotees might present him as a throwback to vintage teen icons (both James Dean and Holden Caulfield have been regularly invoked in connection with Remember Me), he is in truth as much a 21st century man as DeLillo's boyish billionaire.
As Packer tames the torrents of information coursing through the Manhattan (and beyond) of the new millennium, making monster loot via his understanding of the financial maelstrom, so too Pattinson exists – to an extent - within these torrents, with his extraordinary following built from the ability of his fans to form an epic network trading specifically in information about him. Both have achieved preternatural success at a youthful age, both live in a world that wants a piece of them, and given the abnormal manner in which others relate to them both could be forgiven for considering themselves a near-deity on Earth.
The marriage between Packer and Pattinson seems natural therefore. We will likely find out sometime in 2012 if the marriage between Cronenberg and Pattinson proves equally harmonious.