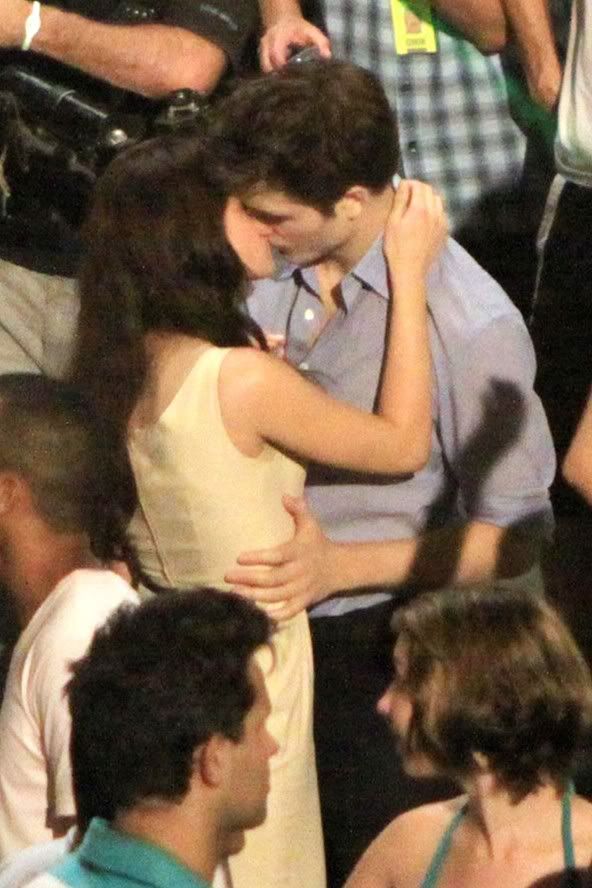 Rio de Janeiro is currently having its "Hollywood Days" as per local reports, thanks to the presence of

The Twilight Saga: Breaking Dawn

's

Robert Pattinson

and

Kristen Stewart

, in addition to Vin Diesel and fellow Fast Fivecast members.
The two productions are supposed to bring the city an extra US$4m, but not everyone has been thrilled with the Twilight Saga: Breaking Dawn shoot in Rio's Lapa district, known for its colorful colonial buildings, lively bars and nightclubs, and just as lively transvestite sex workers.
Four portable public restrooms were set on fire in protest against the blocking of various Lapa thoroughfares on Sunday, as residents could only get home after showing proof of residence to police. (More enterprising Lapa denizens rented the view from their apartments,

charging

fans up to US$150 for the privilege of watching the Breaking Dawn shoot.)
On late Sunday night/early Monday morning,

Robert Pattinson

and

Kristen Stewart

shot the Lapa scenes (not to be found in

Stephenie Meyer

's novel), which apparently feature the recently married

Edward Cullen

and

Bella Swan

Cullen amidst Rio's eternal carnival (at the movies, that is).
According to the publication Ego, background songs for the Lapa sequence included Tom Jobim's "Girl from Ipanema," and Roberto Carlos' "Emoções."
In other "Breaking Dawn in Rio" news,

Robert Pattinson

and

Kristen Stewart

doubles were spotted at the Marina da Glória, where paparazzi thought they were getting shots of the actual couple. The real Pattinson-Stewart combo showed up in the flesh later on.
The Marina is the setting of Edward Cullen and Bella Swan's boat ride to Isle Esme. (See photos here.)
Pattinson and Stewart are expected to hop on a

Paraty

-bound helicopter on Monday afternoon. They'll be shooting the Isle Esme sequences in the small colonial village south of Rio.
On his Twitter page, RioFilme's director-president

Sérgio Sá Leitão

wrote that Sunday was "a wonderful day in Rio. Ideal for filmmaking. So far, everything [has been] going well with Fast Five and Breaking Dawn. Our efforts have paid off!"
And for those wondering what author-producer

Stephenie Meyer

has been doing in Rio (maybe while not dancing the samba in Lapa?) … Well, Meyer was spotted going to a Mormon Temple in the Jardim Botânico district in Rio's South Zone.