Good morning!
You can imagine the happiness that does not fit me! After a lovely Sunday in friendly appearances on the balcony of the Copacabana Palace, Rob and Kristen shooting with satisfaction the neighborhood Lapa.
I need to confide in you ... During the day I could not go to Copacabana and Math when I call, telling of the episode in the Hotel, I was very sad and I confess to have given up everything, I told my husband that no wanted to know anything why I had lost the best of the party Robsten. But then, while I arranged for a wedding I thought, "God, I will not regret, because I have faith that something good in store for me,"
Look the Copacabana palace soooo far!
As I watched Hotel, Robsten exit towards Marina da Gloria and I asked God to not forget to give me that chance.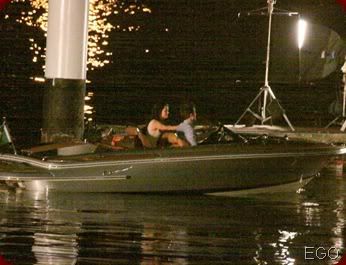 Many girls called me and sent text messages, passing me the coordinates and making me increasingly encouraged and causing me to have a focus on mission: LAPA.
So I ran home, changed clothes, took the makeup off, checked twitter and with a backpack on one side and the other my husband and going to my, our dream in LAPA.
Arriving there around 00:30, I came across the silence and a very nasty scene, a resident tried to go home while the Municipal Guard wore the authority to not let it pass. He had no proof of residence to prove your address, Humpf!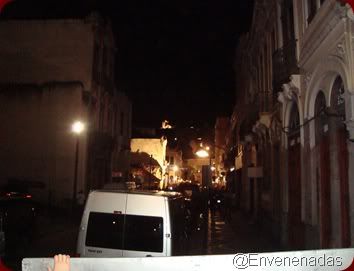 The streets had been closed four outlets with fences that kept us from seeing anything. This photo was taken the second exit I tried, from atop a pole by a friend I met there on time.hehe
In the third exit, there were more people and some chances and that was when I surrendered and went head on this. Along with other girls, bribed (with the same money!) Entry into the awning of a restaurant close to the shootings and it looks just as it did: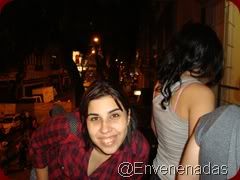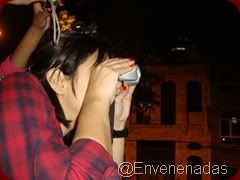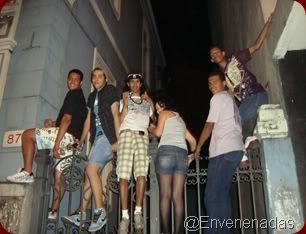 At that moment Robert and Kristen were shooting a scene where she was inside a silver car and he supported the roof of the car, talking to her outside.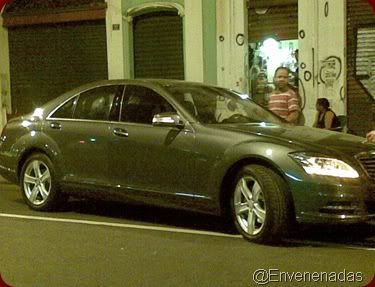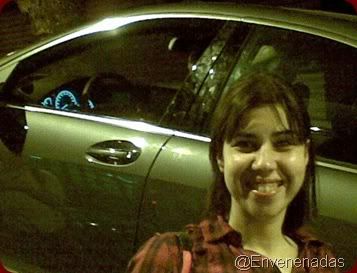 By George, a very nice extra, we learn that Rob is "normal" (a word used by George ... LOL) nice, quiet and was very happy.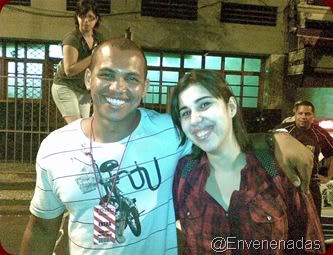 OMG !!!!! He was close to Rob!!
People that girl back there on the shoulder of George, Isabella, was at home and took a stairs and make those he put in the middle of the street. She has beautiful pictures and also filmed with his super camera. Everyone take a little of her stairs. All in a climate of peace and love between the fans!
But then something amazing happened! I looked up and saw several girls on the balconies of an old hotel. One of them waved at me and asked if I can give my binoculars and wanted her picture taken with my camera. Happy with the offer solidarity lent his binoculars (which was a passport to success!) And waited.

Some time after not restrain myself and asked the receptionist at the hotel to let me stay with the girl in the room because she had called me. He did not at first and after a lot of ask, he accepted my offer: R$35.00 ($17 dollars)

PEOPLE I PAID IT! LOL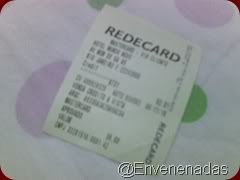 u
pstairs were three rooms filled with girls and cameras. And everybody was changing position to let the other see, I gave my binoculars ... All quiet, without making any noise during recording. Nobody screamed or activate the camera flash (the production asked not to use) all the greatest love for Breaking Dawn!
We filmed three scenes where I could see: that Rob was leaning against the car with Kristen in, two of them crossing the street and then headed for a bar that played samba.
It is possible ... that has a scene playing samba, Dawn. LOL
Anyway ...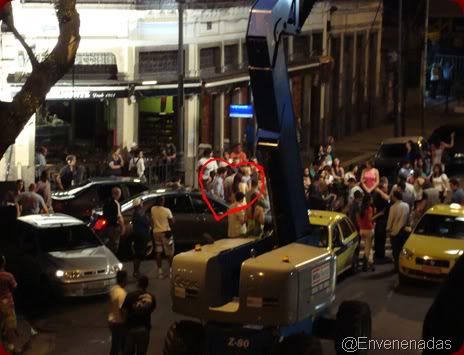 Well folks, here's the best I could get with my humble camera Robert Pattinson and Kristen Stewart. I hope you love how much I loved it.
He's gorgeous! Tall and has broad shoulder (which makes you want to hug!). He was smiling all the time, during the scene and in between too. Seemed to be joking around and had fun all the time because he was simply a smile on his face. He touch Kristen all the time, waist, shoulder, face ... She was more serious and was bored face as he made jokes, blinked her eyes and smiled at her ....
Oh dude ...passion ... That single moment that I lived this night. Until now I can not believe everything you did and what I saw. Seems I spent the night dreaming about it and if I do not want to wake up ...
I thank everyone who allowed me to shoot in their establishments, the friends I made throughout the night, which was cute and took pictures of their positions: trees, poles ... That gave me their space for a few seconds just so I could enjoy too that moment ... THAT'S BEING FAN!

Cooperation, affection, care ... Everyone caring for one another that the end is always happy.
I also thank my husband who protected me in this mission. Providing me the realization of this crazy dream.
Lininha and Rose: You are warriors! Congratulations on the engagement!! You guys are ROCK!
I've got no words ... I hope to have reached their hearts and their expectations with these images and words.
The photo that sums up my happiness to see Robsten in Rio de Janeiro that is.