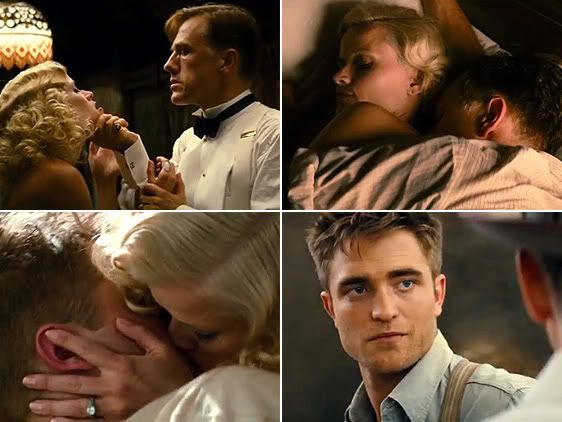 Looks like we weren't the only people who thought the first Water For Elephants trailer had far too much circus and not enough sex. Instead of giving us the ancient Hal Holbrook gabbing about "the Benzini Brothers" (zzz), the new promo focuses on the personal tragedy that led Robert Pattinson's brooding lead to the circus, making clear our boy didn't just run off because he really wanted to clean up monkey poop. The love triangle between RPattz, fragile Reese Witherspoon and violent Christoph Waltz gets more attention in the new trailer as well—instead of Grandpa cooing "I don't know if I picked that circus, or if the circus picked me," we hear Waltz seething that animals can tell "whether man is at full-strength," better setting up Pattinson's claim that Witherspoon "deserves a better life." There's also a lot more kissing and scuffling in this one. While fans of the book (and RPattz) have been psyched from the beginning, this is where those of us who want more drama, and less three-ring majesty, get on board. Plus there's a stampede!
Can Water for Elephants Be the First Great Movie of 2011?
The Internet is popping with loving reviews for Gore Verbinski's Rango, but might Water for Elephants be the first great, no-caveats-like-it's-animated film of the year? If the second trailer for the Reese Witherspoon-Robert Pattinson three-hanky weeper is any indication, quite possibly.
I know: You've probably got fangs knives out for Water for Elephants, if only because of the presence of Edward Cullen and director Francis Lawrence (he of the immortal I Am Legend), but we're now two trailers deep into the marketing campaign for this thing, and it still looks kinda great. Well, it looks good, thanks to Lawrence and his cinematographer Rodrigo Prieto (Brokeback Mountain, Biutiful), but it actually seems like a worthwhile adaptation of Sara Gruen's bestseller. Pattinson makes for a winning-but-tortured protagonist, Witherspoon has a great classic movie goddess (not goddesses, Charlie Sheen) vibe, and Christoph Waltz seems perfectly capable of pulling off the mustache twirling villainy that Water for Elephants needs. Considering how bad this early crop of 2011 movies has been — and how the prospects for March don't look that much better — isn't it possible for Elephants to be the best film of 2011*? Here's hoping…
The Water for Elephants Movie Trailer 2 has premiered. This movie trailer eludes to what happens to Jacob (Robert Pattinson) at the beginning of Water for Elephants (2011), the relationship of August (Christoph Waltz) to his wife Marlena (Reese Witherspoon) and Jacob's emotional courting of Marlena. Francis Lawrence's Water for Elephants also stars James Frain and Hal Holbrook. Water for Elephants' plot synopsis: based on Sara Gruen's novel of the same name, "As a young man, Jacob Jankowski (Pattinson) was tossed by fate onto a rickety train that was home to the Benzini Brothers Most Spectacular Show on Earth. It was the early part of the great Depression, and for Jacob (Holbrook), now ninety, the circus world he remembers was both his salvation and a living hell. A veterinary student just shy of a degree, he was put in charge of caring for the circus menagerie. It was there that he met Marlena, (Witherspoon) the beautiful equestrian star married to August (Waltz), the charismatic but twisted animal trainer. And he met Rosie, an un-trainable elephant who was the great gray hope for this third-rate traveling show. The bond that grew among this unlikely trio was one of love and trust, and, ultimately, it was their only hope for survival." We previously posted the Water for Elephants international movie trailer. Watch Water for Elephants movie trailer 2 below and leave your thoughts on it. Water for Elephants will be released on April 22, 2011.