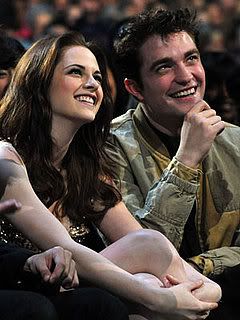 EOnlineUK
Kristen Stewart, Robert Pattinson and Kellan Lutz were some of the Twilight castmembers spotted out in Baton Rouge, La., Saturday night after a week of work.
After finishing up at a cast dinner, the sexy threesome went upstairs to unwind at the Loft, which Robsten frequent a lot—usually together.
But before Kristen & Co. arrived, one matter of business had to be taken care of...
The trio arrived after midnight and seemed to be at ease knowing there were no snap-happy patrons around as they hung on the couches and chilled. Can't say we blame the babes!
"They all seemed a little tired, but were in good spirits," our restaurant spy dishes. Further good (and bad) news: "Rob and Kristen sat next to each other and really didn't leave each others' sides, but there wasn't too much PDA."
We're told R.Pattz would touch Kristen's back every now and then and that there were lots of playful giggles between the couple as they chatted with their costar.
Not exactly hotass stuff, but cute, right?