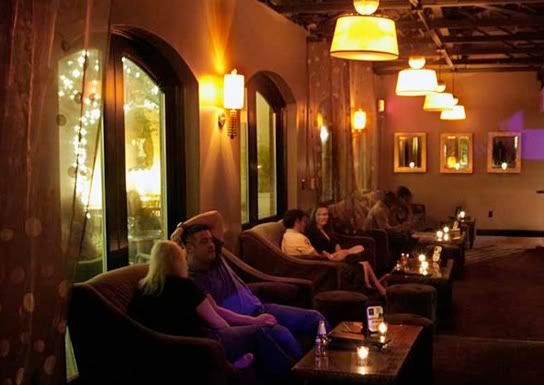 A source tells us where Rob & Kristen sneak away to and keep their romance alive with champagne, candlelight in dark corners … and Brie cheese!
HollywoodLife.com has learned that Robert Pattinson and Kristen Stewart visit The Loft at Perkins Rowe several times a week after shooting their scenes — and this past weekend, they even reserved the upstairs loft for a private party! "Rob and Kristen made the reservation for 10:30 pm but they didn't get there until closer to midnight," our source says. "They made the reservation for the upstairs loft for 40 people but only about 20 people ended up showing up. They stayed until closing and left around 2:15 am, there was a deejay in the loft with them so they were dancing and seemed to be having a really good time. Rob and Kristen are never all over each other but you can definitely tell they are dating. They are never far away from each other and they always arrive and leave together."
The Loft has two locations in Baton Rouge, and our source says that Rob and Kristen visit the one in upscale Perkins Rowe several times a week after shooting, by themselves and sometimes with co-stars Kellan Lutz, and Taylor Lautner.
"Rob and Kristen really like The Loft in Perkins Row because it's candlelit," we're told. "They get some privacy and don't have to be with all the clutter and they aren't harassed. They always get brie, shrimp, puff pastries, red wine and champagne."
Our source reveals that right before Rob left to go to London for Christmas and Kristen was headed home to LA, he requested a brand of champagne called Ace of Spades, that had to be specially flown in for them!
"The Loft didn't carry that brand of champagne, especially since most locals can't afford it," our source says. "It runs anywhere from $500 – $1,500 a bottle."
But even though the stars splurge on their high-end bubbly, they aren't running up a crazy tab.
"They aren't spending what you'd think most celebrities would spend," our source says. "When it's a group of them, it's anywhere from the low end thousands to about $3,500 a night max."
HL