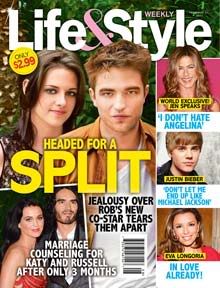 This week, Life & Style spun the story wheel and landed on "Robert Pattinson and Kristen Stewart Headed For a Split," so the writers were forced to come up with a slew of bogus arguments to back it.
The results aren't pretty.
According to the magazine, Pattinson and Stewart are "rarely seen in public together and never affectionate," and their diverging careers and "increasingly incompatible personalities" mean they're "on their last legs as a couple."
But that's not all!
There's also the matter of Keira Knightley, who might star with Pattinson in Cosmopolis. That prospect is "terrifying" for Stewart, because she was wooed by Pattinson when they made Twilight together, and "history seems destined – or doomed – to repeat itself with Keira."
"The idea of [Pattinson and Knightley] getting intimate, even if it's scripted, drives Kristen wild," a so-called "pal" explains to Life & Style.
For good measure, the magazine reminds everyone of Pattinson's alleged past flings with co-stars Nikki Reed (not true) and Emilie de Ravin (not true).
How desperate is Life & Style to prove that Knightley poses a threat to Robsten?
The tabloid refers to reports in Famous magazine that Pattinson and Knightley "have been spending time together bonding."
That's interesting. Because just a month ago, that same tab claimed Pattinson and Stewart were engaged!
Even Life & Style isn't convinced that a split is inevitable because of the supposed Keira Knightley "hurdle," so the mag keeps wandering, looking for evidence of trouble for Pattinson and Stewart.
"They're very young and going their separate ways in terms of careers," argues the magazine's source. "While Kristen may be on the cover of Vogue, she's still very much an indie star or supporting-role actress. Meanwhile, Rob is moving at lightning speed."
Seriously?
Stewart, who's been offered the role of Snow White and finds herself rumored for other enormous starring roles is too much of a "supporting actress" for Pattinson?
But Life & Style isn't done.
The tabloid returns to the old narrative about Stewart being a party pooper sourpuss, who "refuse(s) to smile on the red carpet and complains about being unable to go to the mall anymore," leading Pattinson to question whether the couple is really "compatible."
Yes, it's Pattinson's painful separation from malls that is making him reconsider Stewart.
Sigh.
Monitoring Life & Style's attempts to break up Stewart and Pattinson is like watching someone dance the "hokey pokey."
They put gossip in, they pull logic out, they do a few spins – but the story flops all abou