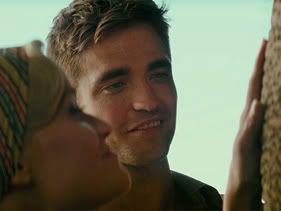 When the name Robert Pattinson comes up for discussion, a lot of people don't remember him for his small part as Cedric Diggory in "Harry Potter and the Order of the Phoenix." Only the die-hard fans have watched the tear-jerking "Remember Me" over and over, and did anyone ever see "Little Ashes"? The 24-year-old British heartthrob is best known for playing Edward Cullen in "The Twilight Saga," dating costarKristen Stewart, and to haters and skeptics alike, is seen as just another hot guy that likes to suck blood.
Movie buffs willing to give Rob the benefit of the doubt have been holding their breath to see him prove himself as a serious actor. We're pretty sure 2011 is the year he'll do just that. Yes, he'll be reprising his vampire persona in "Breaking Dawn" and showing a more serious side in the period piece "Bel Ami," but his role in our No. 3 film for 2011, "Water for Elephants," is what will solidify his place in Hollywood's shining spotlight.
It's hard not to be excited for the April 22 release. The film adaptation of Sara Gruen's No. 1 New York Times best selling novel follows Jacob Jankowski, a white collar veterinarian student who drops out of Cornell during his senior finals following a family tragedy. He finds himself accidentally joining the rag-tag Benzini Brothers Circus after jumping a midnight train and zig-zags across the country, making unlikely friends, finding forbidden love and seeing the dark side of the greatest show on earth. It's the stuff every good movie is made of. Oh, did we forget to mention that Rob looks smokin' hot, too?
The movie has already garnered a little bit of Oscar buzz for Rob's performance, and the trailer alone is enough to give you goose-bumps. Academy Award winners Reese Witherspoon and Christoph Waltz helm the film with Rob, which promises to give you the same thrill of finding a prize in a box of Cracker Jacks.