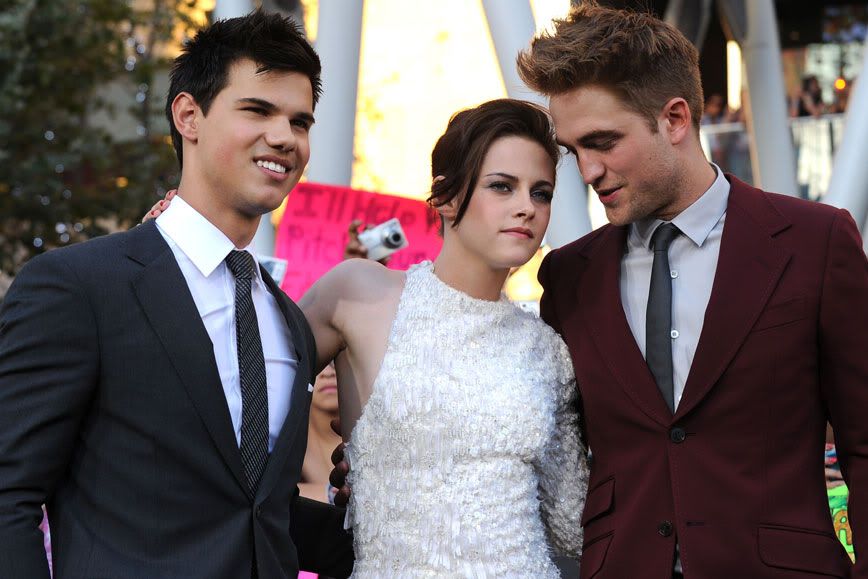 Much of the Bella/Jacob love story is chaste, but as Kristen Stewart pointed out around the release of "Eclipse," she could see why Bella would consider life with Jacob, especially during that epic battle sequence."There's a moment right before the big battle happens; Jacob gets emotional and crazy, and he's gonna try and hurt himself and fight," Stewart said about one of her favorite scenes. "And [Bella] gets to a point where the only way to save him is to kiss him, and what surprises her is, she's not only able to do it; she can clearly see that he offers a really desirable path that, before, because she was so obsessed with Edward ... she just had to like nothing else. She had no perspective, and so it's a moment."
Robert Pattinson apparently doesn't enjoy filming action sequences for the "Twilight" movies, but he said he had less of a problem with the ones in "Eclipse." "You're always wearing skinny jeans, a little blazer and a kind of woolen sweater and trying to act like you're tough," he laughed. "You just know it's not going to happen. For some reason, I felt a lot more comfortable with the action stuff this time."
Of course, no "Twilight" movie would be complete without seeing Jacob shirtless, and Lautner admitted that disrobing for this film was a lot easier than in the series' previous installment. "It's better when it's warmer," Lautner joked. " 'Eclipse' was better than 'New Moon' because we filmed it in the summer. But it's still a little different when I'm the only person on set with a shirt off."
More at
MTV News
 via
twilightish